Skip to main content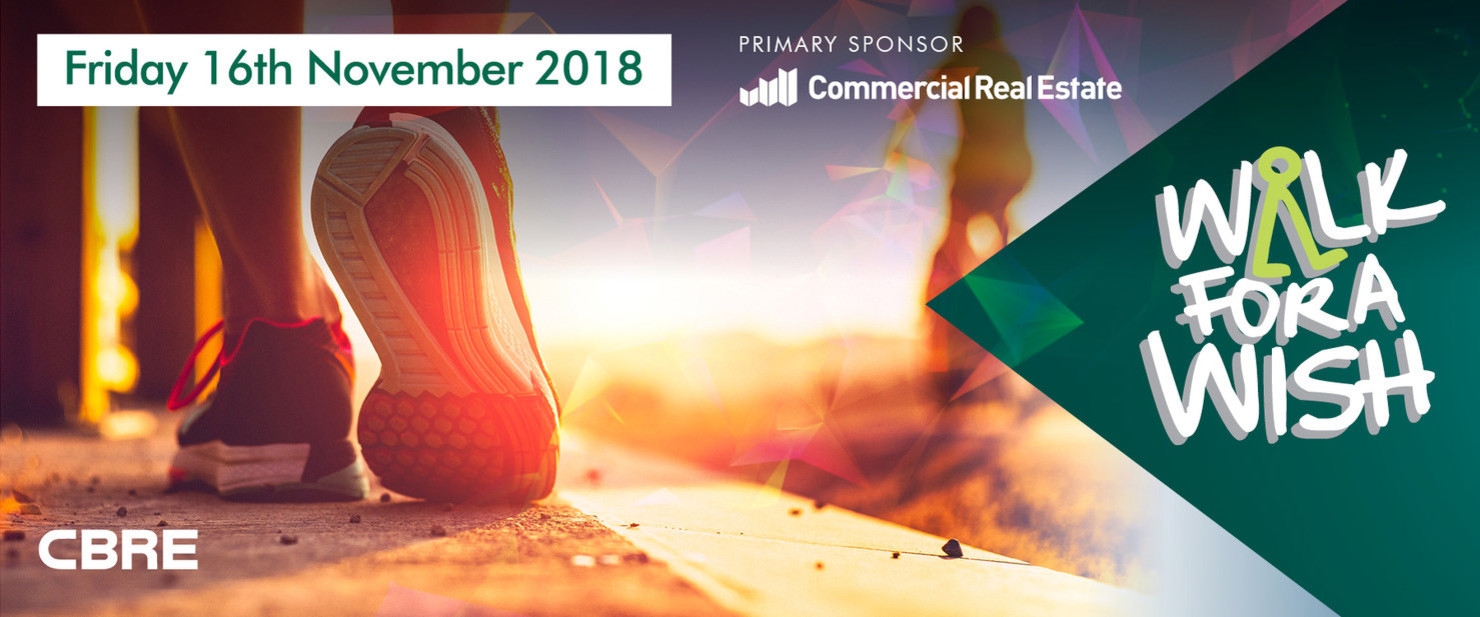 CBRE WALK FOR A WISH 2018
Friday 16th November 2018
Ten kilometres. One fundraising goal!
It's time to dust off your trainers, because CBRE's flagship charity event, Walk for a Wish, is back again in 2018.
Now in its 9th year, the 2018 Walk for a Wish event will be held on Friday 16th November – with CBRE staff across the APAC region walking 10kms through their home cities in support of various charitable organisations.
Following on from last year's event, the 2018 event will allow individuals and teams to choose which charity they wish to fundraise for in Australia out of over 2,000 registered organisations. CBRE is recommending the Starlight Children's Foundation, YWCA, beyondblue, WWF, Queensland Reds Indigenous Program, run against violence as reputable charities that align with our business culture and heightened focus on areas such as the environment, domestic violence prevention and reconciliation.   
We are encouraging recycling so please re-use your Walk for a Wish T-shirts and hats (of course if you no longer have your shirt or are new to the CBRE family please request one through the registration process)
PLEASE ASSIST US IN REACHING OUR FUNDRAISING TARGET OF $200,000
Through this site, you can register to walk, create a donation page or make a donation towards teams or individuals to help make a difference.
Keep track of fundraising progress and all event news and information in the lead up to Walk for a Wish 2018 here.
A big thank you to our supporting sponsor, Commercial Real Estate, for making this event possible.
How Do I Create A Team Page?
To create a Team, you must ensure you have your own fundraising page. If not, Register to Walk!
Visit your fundraising page and login by clicking the 'Login' button in the top right corner.
Once you are logged in, click on the 'Create a new team' link on the right hand side.
Give your team an awesome name, but make sure it matches the one in your registration!
After you click 'Create Team' you will land on the new Team page. You'll be able to add a Team profile picture and edit other options on the Team Page by clicking the 'Edit this Team Page' button on the right.