Skip to main content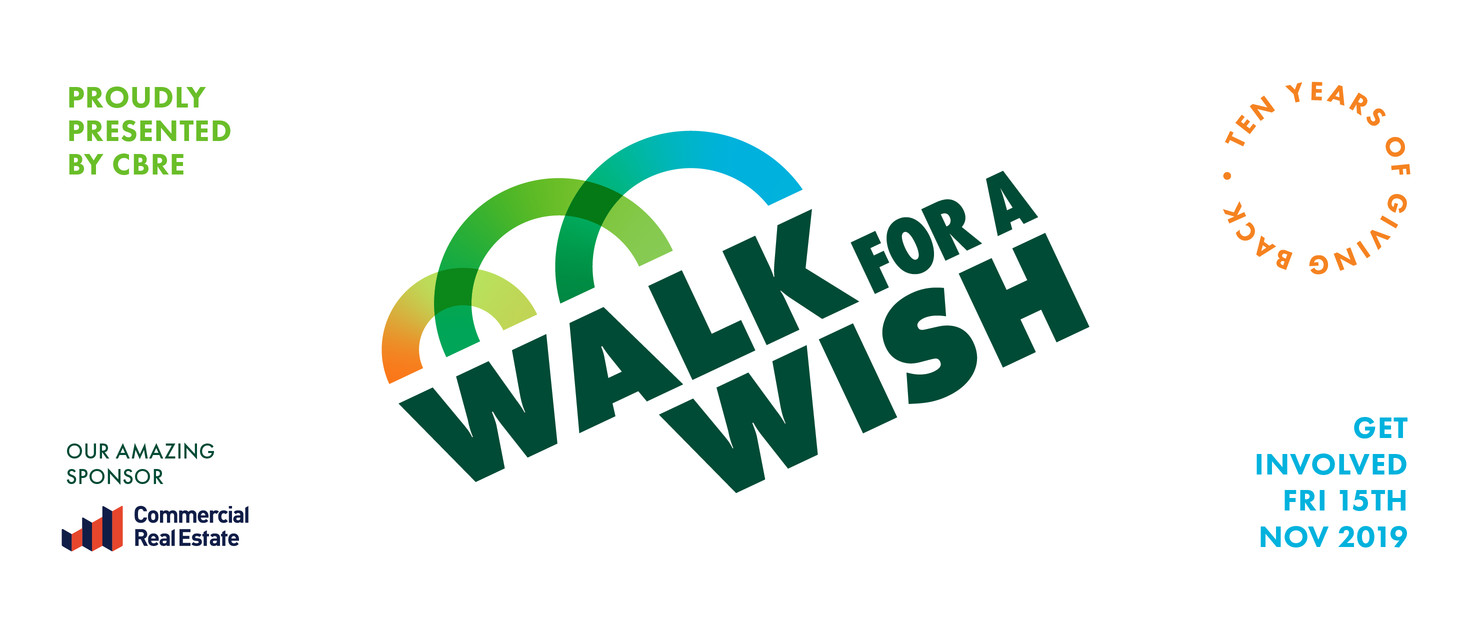 CBRE WALK FOR A WISH 2019
FRIDAY 15TH NOVEMBER 2019
TEN KILOMETRES. ONE FUNDRAISING GOAL!
Dust off your trainers because our flagship charity event is fast approaching. 
This year, our annual Walk for a Wish charity event is turning 10. And to celebrate, we're going back to where it all began and supporting Starlight Children's Foundation – the original WFAW charity.
Starlight brightens the lives of seriously ill and hospitalised children and young people, its Wish Granting Program helps sick kids dream big and take a break from the pain and stress of being sick.
Together, our goal is to raise enough funds to grant over 35 life-changing Starlight Wishes – at $6,500 per wish, that's $227,500. Every donation brings us one step closer to granting Starlight Wishes for sick kids – bringing families together and giving kids more optimism and hope for the future.
With offices across the APAC region walking to raise funds for charitable organisations, our staff will be leveraging their networks, lacing up their walking shoes and joining us in making a difference. We thank our amazing sponsor, Commercial Real Estate, for supporting us these past 5 years and we thank you for playing your part in brightening the lives of seriously ill and hospitalised children and young people.
Donate today to help grant a Starlight Wish for kids just like Ruby, Zackary and Freyja.
Starlight Children's Foundation
This year, the Australian business will be raising funds for the Starlight Children's Foundation; an organisation that enriches the lives of seriously ill children and their families, providing some much-needed joy and happiness during difficult times. 
Discover the stories behind Starlight and learn more about what they do.
How Do I Create A Team Page?
To create a Team, you must ensure you have your own fundraising page. If not, Register to Walk!
Visit your fundraising page and login by clicking the 'Login' button in the top right corner.
Once you are logged in, click on the 'Create a new team' link on the right hand side.
Give your team an awesome name, but make sure it matches the one in your registration!
After you click 'Create Team' you will land on the new Team page. You'll be able to add a Team profile picture and edit other options on the Team Page by clicking the 'Edit this Team Page' button on the right.